×
Building a PTZ camera system for your church can dramatically simplify the process of live streaming and recording worship services. Before PTZOptics, your church would need to clear space for camera tripods and volunteer camera operators. Floor space can become a rare resource during packed holiday services, and managing teams of volunteers spread throughout your house of worship can be time consuming. 
Advanced new tools can help your team, tech veterans and volunteers alike, professionally stream andrecord worship services
As a modern, more effective and efficient solution, many churches today are switching to PTZ camera systems and enjoying the ability to remotely control small, discreet PTZ cameras placed in key locations. Volunteers can be trained on the job, remotely managing cameras with joystick controllers, smartphone apps, and even their favorite video production software such as OBS, Wirecast, vMix, TriCaster, Livestream Studio and more.Compared to traditional camcorders, PTZOptics cameras can be installed almost anywhere. Camcorders are obsolete, requiring tripods or platforms and a camera operator. With PTZ cameras, a single camera operator can control multiple cameras using an iPad, a joystick, or even an Xbox controller. While maintaining a church's aesthetic appearance, PTZ cameras can be placed in strategic, out-of-the-way locations where cabling can be hidden inside of walls and along balconies.
Location Options
Here is a typical list of locations and mounting options for PTZ cameras installed inside churches:
1.    Wall Mounted - Wall mounts can provide unique views that are above the heads of standing members in the pews. PTZ cameras are often positioned on a balcony to provide views of large spaces.
2.    Ceiling Mounted - Ceiling mounts can provide views from above, which can be used for showing special overhead and angled views of the church.
3.    Pole Mounted - Pole mounts can be used to safely position cameras in places above crowds. A prime example is inside of a church with vaulted ceilings. In this scenario, a pole mount can safely place the camera 10 to 15 feet below vaulted ceilings.
4.    Wall-Recessed Mounted - For an even cleaner aesthetic and when the wall construction allows, PTZ cameras can be mounted in recessed cubbies where they are not visible to the congregation, to preserve the decorative face of a balcony or wall.
Control Options
1.    Hand-held IR remote - IR remote controls are easy to use for close-range camera control, but they generally do not work when the camera is mounted far away or where daylight or other IR interference may exist. Many PTZ cameras are mounted in locations that are far away from the camera operator, such as a ceiling in a church or even in a remote room or building.
2.    Joystick controller - PTZOptics features IP joysticks that can easily control any PTZOptics camera on a local area network.
3.    Software - Software solutions for PTZ camera control have become more popular in the past few years. PTZ cameras can now be controlled with software such as OBS, vMix, Wirecast, TriCaster, MimoLive, and Livestream Studio, allowing an operator to simply click an image of where they want the camera to move. Each software solution may handle pan, tilt, zoom, and camera preset controls a bit differently, but the benefit is generally the same. With PTZ camera controls built directly into your team's video production software, the producer of a live stream no longer needs separate camera operators. With a couple of quick mouse clicks, PTZ cameras can be moved to known locations throughout your church and can even be automated to move with advanced integrations such as MIDI notes built into your Ableton or ProTools music setup. This type of camera control integration into software- and hardware-based production systems allows smaller teams to feel more comfortable when a more seasoned volunteer is not able to be present. Sometimes the most faithful members of your church aren't the most technical people. With simple, intuitive tools to control cameras and video production software, almost anyone can capture a Sunday service for your live stream. 
4.    Game controller/Apps - Cameras can be controlled with an Xbox controller. Additionally, once PTZOptics cameras are installed on your network, volunteers can connect to your WiFi and use thePanTiltZoom app on their Android, iPhone, or Kindle device to control the cameras. Some church tech directors may even simultaneously enjoy the service while discreetly managing the cameras with their smartphone.
Specifics forsystem design
When you are building a PTZ camera system, you should consider optical zoom and video output options for your church's streaming setup. A 12X Optical Zoom, for example, is ideal for subjects within 10-30 feet of the camera, while a 30X Optical Zoom PTZ camera can capture a head and shoulders view of a pastor from as far as 75 feet away. 
The most popular video outputs for PTZ cameras include SDI, HDMI, Ethernet (e.g., NDI), and USB. SDI is perhaps the most popular video output for PTZ cameras because of its ability to handle long-distance cable runs. SDI cabling also features professional, positive-locking connectors that are used to securely connect the cable to your camera and your video production equipment. SDI cable is made of solid copper and uses industry standard, BNC-style, ¼-turn connectors on each end. The professional nature of SDI has made this cable and signal transport a favorite in video production and with PTZOptics SDI cameras. Another popular video connection is HDMI. HDMI is also a popular option because of its integration with almost every television and the majority of affordable video production solutions. HDMI does support resolutions up to 4K, but unlike SDI this cable can only be reliably run for 50 feet without signal degradation. Cable runs above 50 feet are certainly possible but will require expensive extension gear. HDMI video production equipment is usually less expensive than SDI equipment, so HDMI video switchers and systems have generally been used for consumer or prosumer systems. 
The PTZ Optics' website features an optical zoom calculator to help you determine the optical zoom options that best fit your church
Another popular cable connection for PTZ camera systems is Ethernet. Ethernet connectivity today can provide more than just camera control. A single Ethernet cable can now be used for video, audio, camera control, and it can even fully power your PTZ camera using PoE (Power Over Ethernet), eliminating the need for power supplies and outlets that normally require installation by an electrician at each camera location. A new Ethernet video standard called NDI is now even available built-in to many PTZ cameras (NDI Cameras). NDI, from NewTek Inc., provides easy-to-configure IP video connectivity with many of the most popular live-streaming solutions including Wirecast, vMix, TriCaster, Livestream Studio, OBS and many more.Finally, USB cabling is the plug-and-play option for PTZ cameras. PTZOptics USB cameras can provide video connectivity with any live streaming or video production software in the same way that you would connect a webcam to your laptop. While USB connectivity may seem like the easiest way to connect cameras to your computer, USB ports can have limited bandwidth to support high definition video. Also, most computers can only support one or two high definition cameras connected via USB for video production, as the USB ports share the same internal PC resources. USB cabling can also only be extended short distances and doesn't provide positive-locking connectors. For these reasons, USB cabling is only used when a system requires a small number of cameras that are located very close to the production PC or system.If you are in the initial stages of planning your first PTZ camera system, consider a PTZOptics Producer Kit.
With PTZ cameras ,a single camera operator can control multiple cameras using an iPad, a joystick, or even an Xbox controller.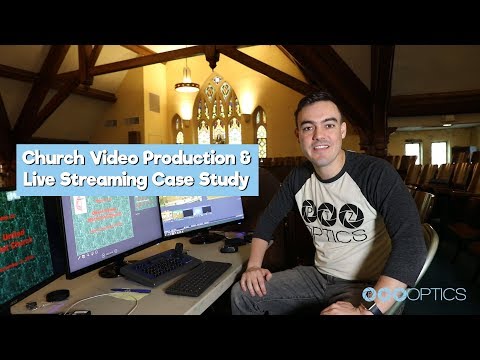 Church Video Production & Live Streaming Case Study
The PTZ Producer Kits are a line of complete, turnkey, live streaming systems that include one PTZ camera, with options for easily expanding to multiple cameras. PTZOptics has designed these systems with a super-fast Intel NUC, small-format computer that can be used to run any software your church may need for live streaming or presentations. Many churches run multiple types of software in addition to their video production software, including PowerPoint, EasyWorship, ProPresenter and more. These kits are a great place to start, or you could consider adding a PTZ camera to your existing video production system, which may include Blackmagic, Roland or other gear. If you're interested in learning more, download a free copy of "Helping Your Church Live Stream" at ptzoptics.com/book.